Before COVID lockdown, I was a suit and high heel kind of a gal. But, after nearly two years of no business travel coinciding with my sailing into middle-age, I found I couldn't go back to wearing heels. It just didn't feel worth it after two years of being comfortable. That meant a major wardrobe shift – putting my heels on the shelf, and re-populating my wardrobe with flats.
So, I started searching for flats that weren't terrible. I was looking for something comfortable and affordable, while attempting to be considerate of the impact on my environment of my choices. I literally laughed out loud the first time I heard the term "vegan leather". I mean, it is just plastic, right? Vegan leather can take thousands of years to break down, releasing micro plastics all along the way. I have to caveat this now by saying that there are some really interesting vegan leather options coming out into the market, but the majority of vegan leather today is make with petrochemical-based plastics like Polyvinyl Chloride (PVC) and Polyurethane (PU).
It felt like I couldn't win: leather is a natural product, and will biodegrade in 25-40 years, but has a pretty high carbon footprint associated with the cattle industry; chemicals used in the tanning process can be harsh; and there are ethical considerations to be had regarding whether the cattle were raised solely for leather production or are a by-product of the food industry.
Making shoes from by products of the food industry is waste reducing, but how would you know where the leather in your shoes comes from? If cattle are being raised purely for leather, that would just be silly – because there is much more demand for beef than for leather worldwide.
So, faced with plastic vegan leather or real animal leather, there are compromises on both sides.
Then I found another option: shoes made from recycled plastic. Vivaia's eco-friendly flats are made from recycled plastic bottles and are now a staple of my wardrobe. I mean, what?!?! Seriously – they are made from recycled polyethylene terephthalate (PET) bottles that would otherwise likely go to landfill. Vivaia state they have recycled 1.8 million plastic bottles so far. What's more, their shoes are comfortable and machine washable.
Being machine washable is a big plus for me, as I struggle to keep anything clean. Honestly – I don't know what is wrong with me! I wore my new black and white Vivaia flats out last Halloween with the kids trick or treating, and I somehow managed to step in a huge mud puddle right outside our house. I mean, seriously – we live in the suburbs. There are concrete footpaths (sidewalks) everywhere, and yet I still managed to find a mud puddle in the dark. But, I popped my flats in the washing machine as soon as I got home, and they scrubbed up good as new.
The one thing I feel I should mention is that the shoes do seem to have gotten more expensive in recent months. When I bought my first pair, I remember being pleasantly surprised at the price tag. I suppose with the increased demand for their products, and rising costs, it was inevitable the price would go up. They are still somewhat reasonable when compared to your average department store shoe at roughly $100USD for a pair of flats, but they can't compete with the fast fashion bargain basement offerings on price. However, because the fast fashion market is a different market segment from sustainable fashion, to compare prices across the two would not be appropriate.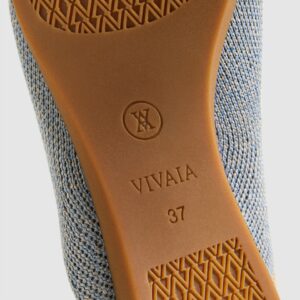 It is definitely worth doing your own research in this space. Vivaia are certainly not the only players using innovative and more sustainable materials to make shoes. Companies like Suavs, Veja, and Rothy's have a similar offering to Vivaia (but I haven't tried them out, so can't vouch for how good they are as products).  Other companies like Allbirds, Cariuma, and Sanuk are trying out different and innovative methods to ease the leather or pleather dilemma. See below for additional resources.
Sources & Resources
Is Leather a By-Product of Beef Industry?
Please note this study was conducted by the Leather and Hide Council of America, so there is a risk of bias.
Vegan Leather Loses Its Green Credentials
Best Foot Forward: These 13 Shoe Brands Pair Style With Sustainability
Ethical Shoe Brands for Every Occasion